Boot Sale Challenge
Host
Lorne Spicer (LWT & Carlton)
Helen McDermott (Anglia)
Vicky Locklin and Judith Michael (Tyne Tees)
Gaynor Barnes (Yorkshire)
Ted Robbins (Granada)
Julie Peasgood (Meridian)
Broadcast
London News Network for LWT (regional), 7 August 1998 to 4 June 2000 (21 episodes in 3 series)
LNN Factuals for Carlton (regional), 4 January 2002 to 13 February 2004 (45 episodes in 3 series)
Anglia (regional), 8 June to 31 August 2003 (12 episodes in 1 series)
Tyne Tees (regional), 8 June 2003 to 31 August 2004 (20 episodes in 2 series)
Yorkshire (regional), 8 June 2003 to 31 August 2004 (20 episodes in 2 series)
Granada (regional), 8 June 2003 to 7 September 2004 (20 episodes in 2 series)
Meridian (regional), 8 June 2003 to 7 September 2004 (20 episodes in 2 series)
Synopsis
London regional show apparently similar to Bargain Hunt but - get this! - actually predating it by a good twenty months.
Trivia
Several ITV regions ended up producing their own versions of BSC before the ITV plc merger. Helen McDermott hosted the Anglia version, Vicky Locklin and Judith Michael hosted the Tyne Tees version, Gaynor Barnes hosted the Yorkshire version, Ted Robbins hosted the Granada version and Julie Peasgood hosted the Meridian version.
Pictures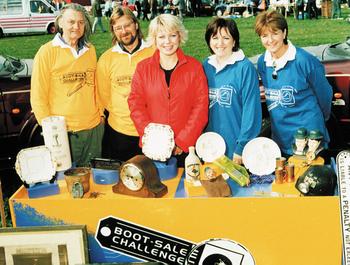 Lorne Spicer with a couple of bargain hunting contestants.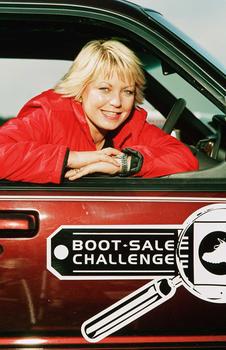 Lorne Spicer in her trademarked boot sale.
Feedback