Brendan Courtney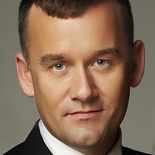 Biography
Kind of Ireland's answer to Brian Dowling (erm...) who worked as a runner, researcher and producer before appearing in front of the camera, including presenting some of ITV2's output for a while. His ITV1 shows Love Match UK and The Look of Lurve are now a dim memory, although in Wanderlust he has the honour of devising the show with the cleverest title ever.
After presenting a self-titled chat show in Ireland, he now presents a revived version of The Clothes Show.
Trivia
Once didn't turn up for a training course we were running, so nuts to him.
Contact
Michael Joyce Management, 4th Floor, 14 - 18 Heddon Street, London, W1B 4DA
Web links
Feedback