Brian Cant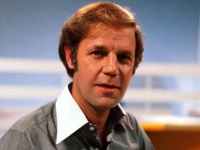 Biography
Born in Ipswich in 1933, Brian Cant is a true legend in children's television, best remembered for presenting Play School and Play Away alongside many other children's legends such as Johnny Ball, Floella Benjamin and Derek Griffiths, and sterling voiceover work on the Trumptonshire series, as well as presenting the later kids' series, "Bric A Brac" and "Dappledown Farm". He also acted on stage and screen and was active in the audiobook world.
He died in June 2017, at the age of 83, due to complications from Parkinson's Disease.
Trivia
Fern Britton is his sister-in-law and the actor Tony Britton is his father-in-law.
He revealed on a "Play School" video that, when he went for an audition to present that show, he was given a cardboard box and asked to, "Get in that box and row out to sea!" He duly did so, giving a running commentary about the seagulls, the sea getting choppy and, eventually, that he had caught a custard-filled Wellington boot. He reckoned that he was given the job by virtue of acting silly - and clearly witty too!
He and a host of other 'Play School' and 'Play Away' presenters made a kids' record entitled 'Bang On A Drum', featuring a number of songs that had been performed on both those programmes. Cant's songs included 'One Potato, Two Potato', 'I Like Peace, I Like Quiet' and 'I Think I've Caught A Cold!'
A 2007 edition of the BBC's 70's-set drama "Life On Mars" famously features the lead characters being portrayed as if in an edition of "Camberwick Green", one of the series that Cant narrated - followed by the immortal line by Sam Tyler, "I'll only say this once, Gene - stay out of "Camberwick Green!" Excellent though that scene undoubtedly was, it's a shame that Cant did not narrate it - it would have added some real authenticity if he had.
Another job he might have done, but didn't, was a voiceover on a Saint Etienne LP. When producer Richard X remixed their debut album Foxbase Alpha, he decided that the song "London Belongs To Me" was reminiscent of Freddie Phillips' music for the Trumptonshire programmes and tried to get Cant in to add some narration. Unfortunately, Cant couldn't be contacted in time, but he got a credit on the CD anyway, for "What Might Have Been"!
In 2010, Cant received a BAFTA award for outstanding contributions to children's television - a very well-deserved award, and long overdue, many would argue. Following the presentation, he apparently stated that, when he was a man, he spake as a child, thought as a child and understood as a child - and got paid for it! Where do we sign up for that?
Web links
Feedback