Britain's Top Takeaways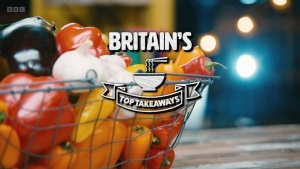 Host
Co-host
Darren Harriott
Broadcast
Ricochet for BBC Two, 9 May 2022 to present
Synopsis
A press release fluttered through our letterbox.
Britain's Top Takeaways is a brand new eight-part series for BBC Two that sees some of the nation's best-loved independent takeaways battling for supremacy in a fast-food showdown that crowns a different winner each week.
Hosted by Sara Cox, this celebration of Britain's booming home delivery scene follows five takeaways from the same sector in each stand-alone episode. Drawn from across the UK, they'll compete in a specially built kitchen set in a former foundry in the heart of Manchester.
There, they'll cook up a storm of delights that will have audiences salivating. Their dishes are biked to households within delivery distance of the Top Takeaway Kitchen, who have the difficult decision of judging that episode's winner.
Each takeaway brings a delicious curated menu featuring a classic dish, chef's special, vegetarian option and sides. Our families and friends choose dishes from the five menus but the takeaways have no idea when or what they'll order. It's a fast and furious service!
As soon the food is ready, it's raced to the door of the people who ordered it who critique the dishes they've chosen. There's no let up for the takeaway teams as the next order comes in, and at the end of a frenetic night, they finally collapse while they wait for the final scores - to see if their business can triumph as that episode's Top Takeaway.
So, each episode concentrates on a single type of food. Fish and chips, Chinese, Mexican, curry, kebabs, pizza, chicken, noodles - they all had their hour in the spotlight.
Families ordered food from the menu - first two families kept it simple, next two went for the more adventurous dishes. The show concluded with a Big Order for a large group who wanted two of everything. Each family ranked the food from best to worst, and awarded points; the Big Order was worth double points, so the result was in doubt until the end.
There's a lot of people to meet - five pairs of cooks, six eating families - and the show divided neatly into a section for each order. It still felt a little rushed, could have done with three half-hour episodes rather than a single hour.
Britain's Top Takeaways was a show for the early 2020s. It reflected the way food was consumed at that time - not cooked by the family, but by experts, and delivered on the back of a motorbike. The show also notes how the quality and inventiveness of takeaway food has improved - no longer do we accept soggy chip butties, when we can have fish and chips and salad in a brioche.
The winners get the applause of their fellow contestants, and the honour of winning the episode. And that's all, not even a Perspex trophy the size of your hand.
Trivia
Aired Mondays to Thursdays, and not every week as the original press release suggested.
The show publicised the hashtag #britainstoptakeaways. This caused unnecessary confusion, as it was read as "Britain! Stop takeaways!"
Web links
See also
Feedback