Buzz and Tell
Host
"Walter Flipstick"
Co-hosts
Voice cast: Karl Wooley, Rebecca Courtney, Keith Wickham
Broadcast
Impossible Kids for Cbeebies on BBC Two, 9 August 2010 to 25 January 2011 (52 episodes in 2 series)
Synopsis
Shout-out-the-answers puppet show for preschoolers. Each five-minute episode included a missing words question (example question: "Cars and lorries drive on the... what?"), picture question, numbers question (Five birds are in a tree. Two fly away, how many are left?), a sound effect question, and sometimes a general knowledge question at the end.
Lots of incorrect answers (and usually a further clue) would be given before getting to the correct one, providing young viewers with plenty of opportunity to get there first.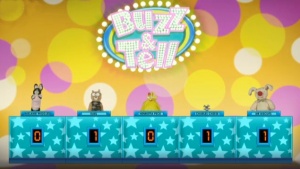 Melanie Wiggles, Karl, Henrietta Peck, Charles Cheese and Mr. Biscuits
Inventor
Jon Doyle
Theme music
Richard Taylor
Trivia
This was the first production by Impossible Kids. Its parent company Impossible Pictures is best known for the CGI-enhanced sci-fi drama Primeval.
The second series included a Christmas special which was never repeated, in which Walter Flipstick won!
Feedback