Buzz and Tell
Host
"Walter Flipstick"
Co-hosts
Voice cast: Karl Wooley, Rebecca Courtney, Keith Wickham
Broadcast
Impossible Kids for Cbeebies on BBC Two, 9 August to 10 September 2010 (26 episodes in 1 series)
Synopsis
Shout-out-the-answers puppet show, effectively carrying on from where The Shiny Show left off, but with more elements parodying grown-up shows.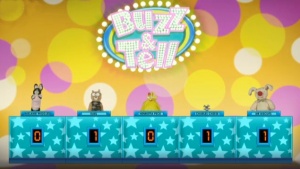 Melanie Wiggles, Karl, Henrietta Peck, Charles Cheese and Mr. Biscuits
Inventor
Jon Doyle
Theme music
Richard Taylor
Trivia
This was the first production by Impossible Kids. Its parent company Impossible Pictures is best known for the CGI-enhanced sci-fi drama Primeval.
Feedback