Carry On Campus
Host
Will MacDonald
Broadcast
BBC Two, 26 to 30 October 1998 (5 episodes in 1 series)
Synopsis
Wiiiiill from Channel 4 entertainment show TFI Friday gets his own programme with no sign of the Ginger one anywhere. Except in the credits.
Somewhat derivative student quiz, which only ran for a pilot week during teatimes (i.e. when students will be eating - doh!) before sinking without trace.
First ten minutes is spent establishing that each of the three team members on two teams has been voted the "Biggest X" in the university, where X might be "show-off", "lush", "poser", "swot" or something similar. They'd also do set-up stunts like send swabs from the kitchen worktops and bath towels of microbiology students to their professor for testing, with the inevitable results that they were full of salmonella and pneumonia bacteria.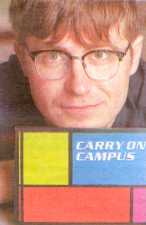 Host, Will MacDonald
Eventually, we get into the quiz. Rounds include being asked about their own degree subject, real life situations, and a daft buzzer round which involved liberal use of the word "kebab", as students do.
During the first four programmes, a big box of CDs was the prize for the winners, with the highest-scoring boys and girls teams going through to the final on day 5 to play for £1,000.
Inventor
Chris Evans, Danny Baker and Will MacDonald
Theme music
Dean Collinson, who wrote the 1993 A Song for Europe winner Better the Devil You Know.
Feedback