Celebability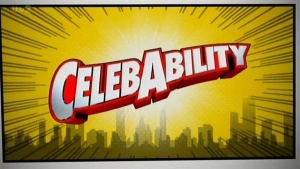 Synopsis
Think an hour of Iain Stirling in the middle of the week isn't enough? Neither do ITV2. That's why when Love Island's on they follow it with a bonus 45 minutes of him administering physical games to members of the public and assorted celebrities, chosen to complement the celebrities' abilities.
The celebrities - all young and familiar to the ITV2 audience - are shown with unusual abilities. Not spill things on a moving train. Count off a minute in your head. Guess what a dog is thinking.
One of the friends volunteers to go against the celebrity, and takes on a challenge. For instance, to guess what a dog is thinking, the dog picks one of three pictures, and the celeb and challenger try to pick the same option.
All of the challenges are done in the studio, on the arena floor. When not playing, both teams sit above a giant video wall, and some very clever shot direction makes the wall look taller than it is.
The final round for the first three series featured the celebrities who won their challenge, and the teammates who won theirs. The celebrities are on the studio floor, and the team are asked questions. All of the answers are one of the celebs on the floor. £500 for each correct answer; the team has the option to go double-or-quits on a final question. From series 4, successful challengers sent their defeated celebrities to stand in front of pictures behind which prizes were hidden, and were asked if they wanted to gamble what they'd won for all of the prizes.
Celebability is fast-moving: they've a lot of material to cram into a 45-minute slot. The games are explained and umpired by Marek Larwood, as a slightly desperate character who is the butt of jokes. There's also a commentary by Jarred Christmas. The show is better because Iain Stirling has someone to bounce his jokes off, but many viewers grew to dislike Marek's character.
A light show, there's no humiliation beyond punctured egos. The series went out at 10pm, so there's a lot of swearing. And it's on ITV2, so expect entertainment and laughter.
A number of changes were made for the show's third series. Firstly, the show began being called Iain Stirling's Celebability, and a promo was produced with Stirling proclaiming the show 'so good, it's got my name on it'. Secondly, narrator Jarred Christmas was removed, with the challenges left unnarrated and Stirling doing the trailers - probably a wise move all told. However, the largest change was that the teams were reduced to four from five, with Scarlett Moffatt captaining the challengers' team - which, in this reviewer's humble opinion, undermines the 'plebs vs slebs' dynamic of the show. However, someone must have liked it, given that it returned the following winter with an increased budget.
Key moments
Keith Duffy's retort to Iain implying that he'd struggle to shift Boyzone records.
Inventor
From an original idea by Mor or Les Productions.
Title music
Music composed by Richard Levy.
Trivia
Series one went out at 10pm on Thursdays, established as the Celebrity Juice slot. They shifted to Wednesdays for series two and three before reverting back for series four.
Host Iain Stirling also narrated Love Island at 9pm.
Choriza May, who appeared on series 4, would later appear on series three of RuPaul's Drag Race UK.
Stacey Solomon deputised for Scarlett Moffatt during series 4 due to Moffatt's commitments to panto, while a run of guest team captains deputised for an episode each in series 7 due to Moffatt's commitments to being ill (she contracted a sick bug and opted not to disrupt filming).
Web links
See also
Feedback