Challenge Anneka
Host
Broadcast
Chatsworth Television for BBC1, 27 November 1987 (as part of Children In Need)
Mentorn Films for BBC1, 8 September 1989 to 15 October 1995 (60 episodes in 7 series + 3 specials)
ITV Productions for ITV1, 26 December 2006 and 6 June 2007 (2 specials)
Channel 5, 2023
Synopsis
TV's Golden Girl Anneka Rice would be challenged to do random acts of kindness, such as build an orphanage in Kenya within 48 hours.
Opening part of programme sees Anneka in a huge articulated lorry searching for a particular place she had been previously been tipped-off about. Eventually they find the challenge written on a piece of card somewhere which details what they have to do - for example, "The child holding this card has a broken wrist and needs to go to a local hospital", usually with some snide "P.S." on the back like "...but first you've got to build the hospital!"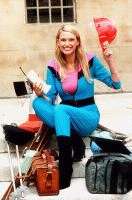 Ready for action - Anneka Rice
A stupidly small amount of time to complete the challenge, but peace and love will prevail because by phoning the right people up who are willing to give up their time and trouble for some product placement on the BBC they'd always muddle through to the end.
Later shows saw the somewhat random inclusion of Pedro the dog, who seemed to have no purpose other than adding an additional "Aaahh" factor. He certainly didn't do his share of the digging, or mixing the concrete.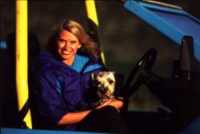 Anneka in her Challenge buggy, with Pedro the dog.
Happy little show that breezily occupied BBC1's Saturday night slot.
In 2006 ITV decided to shoot a broadcast pilot for a possible revival, rebuilding some buildings within five days in Sri Lanka which had been destroyed by the 2004 tsunami. The theme tune and Dave the soundman were retained, but the logo, truck and jeep have all been updated and modernized. Lovely. Unfortunately, it lost out in the ratings to the premiere of Pirates of the Caribbean and Deal or No Deal, which is a pity.
In May 2022 Channel 5 announced they would be reviving it, Dave and all. We suspect Pedro won't be back though.
Key moments
All too often, Pedro stole the show.
An outtake when Anneka asked a man on the phone named Chris what P-L-Y stand for, only to have told it was all in one word ("PLY"), leaving Anneka in fits of laughter before cutting him off the line. When she called back Chris, she asked "Is Mark there?" before realizing she called the person by the wrong name and hung up again.

We need 6mm P-L-Y...
Catchphrases
"(insert name of boss of large engineering company here), you are such a star!"
Inventor
Devised by Anneka herself, in conjunction with Malcolm Heyworth, her producer from her days with Treasure Hunt.
Theme music
Composed by David Mindel.

Opening titles
Trivia
The idea was first run as a one-off stunt for the BBC's Children in Need appeal, in 1987.
One of the most frequently asked questions was "Was it all a set up?" and one of the producers later admitted that yes, it was to an extent. Many of the engineering companies had been contacted in advance.
One of the projects, restoring a historic pier in Swansea, went somewhat pear-shaped when it was discovered the relevant planning permission hadn't been approved. Still, the council rubber-stamped it after the work had been done...
The show won a Bronze Rose of Montreux in 1991.
The format was successfully exported to the Netherlands, where their "Anneka" was Dutch pop star Angela Groothuizen, who went on to host the Dutch version of The Mole (Wie is... de Mol?) and was a mentor/judge on the local version of The X Factor. Challenge Angela would have worked perfectly well as a title, but they just called it The Challenge instead.
Merchandise
Challenge Anneka: Get Well Soon
The production of this book was one of the challenges achieved on the programme. The idea was to create an activity book for children in hospital from scratch in about 48 hours.
Web links
Pictures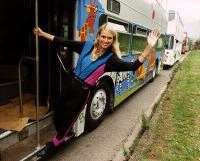 Anneka on the results of one of the previous challenges - restoring a complete playbus for disadvantaged children.
Feedback