Chris Jarvis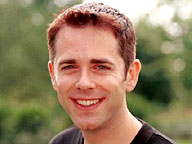 Biography
Kids TV presenter and impressionist, probably best remembered for playing the character of The Anorak on Children's BBC (catchphrase: "No-one beats The Anorak!"). He's also been the voiceover for the post-Walker era of Catchphrase.
Trivia
He once appeared on the Chucklebrothers' show, and provided the voice for the modern-day audiobooks of Henry's Cat.
He has hosted at least two other game show pilots that never made it to air, Who Wants to Date a Millionaire? and Talkin' 'bout My Generation, both for LWT.
Former Catchphrase host, Nick Weir, once revealed on Twitter that the less than complimentary introductions he received from Jarvis in each episode were a joint effort between the two in collaboration with Ted Robbins and that he got on very well with him!
Contact
c/o Blackburn Sachs Associates, 2-4 Noel Street, London W1F 8GB
Web links
Artist page at Blackburn Sachs Associates
Feedback