Chris Moyles' Quiz Night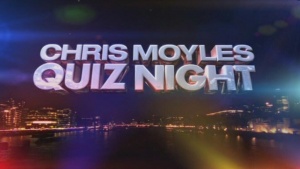 Host
Co-hosts
Guest quizmasters (in order): Sharon Osbourne, Jack Dee, Melanie "Mel B" Brown, Heston Blumenthal, Seth Rogen, Jimmy Carr, Michael McIntyre, Johnny Vegas
Broadcast
Magnum Media for Channel 4, 22 March 2009 to 3 February 2012 (39 episodes in 5 series)
Synopsis
A news/gossip-based quiz in which Radio 1 "jock" Chris Moyles competes against three celebs, with what are supposedly his own possessions up for grabs. A bit like Win Beadle's Money... only with tellies and stuff. The lowest scorer has to sing at the end of the show.
The game itself is quite unremarkable: 12 topical questions over three rounds, Moyles and each of the celebs write their answers down on bits of card and then compare them after each round. Effectively, it's The Big Fat Quiz of the Year Goes Little.
As promised in the publicity, there is indeed a guest quizmaster each week, though they only appear in recorded inserts, and some of the questions are posed by other people (the first show included an anagram question posed by Jeff Stelling by means of the Countdown Conundrum board and a cryptic picture question drawn by Germaine Greer).
Moyles reins in his obnoxious radio persona somewhat, but all the same, he's never really come across well on television and it's hard to see how this rather humdrum format is going to break his duck. [Curses! Wrong again! - Ed.]
The programme returned in 2010, but without the topical aspect as the shows were recorded months in advance. This time round, the studio audience got to predict the winner, and everyone who predicted correctly won a prize, and there were some physical games as well as quiz rounds.
Key moments
One question asked on the show was "Who painted 'Water Lillies?'", everyone knew the answer except Chris (The real answer is Monet) so Chris took a really big stab in the dark with guessing "...The guy from Art Attack?" (Neil Buchanan)
Trivia
The title seems to be the source of much confusion. While Channel 4 calls it Chris Moyles' Quiz Night (as we have), some listings go for Chris Moyles's Quiz Night or even Chris Moyles' Quiz Show. The programme logo omits the apostrophe altogether, opting for Chris Moyles Quiz Night. Blimey.
Web links
See also
Feedback