Craig Charles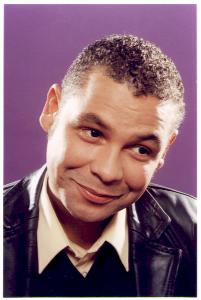 Biography
Liverpudlian Craig is known for being a comic actor and stand-up comedian, but he is also a gifted poet and was winning awards from the age of 12.
Craig has enjoyed considerable success in the role of Dave Lister, the last human alive on the Space Corp mining ship Red Dwarf in the BBC2 series of the same name.
In 1994, a high-profile charge of rape was made against him, involving a spell in Wandsworth Prison before trial - he was acquitted. This, and other personal experiences, are often the subject of his poetry.
He still regularly performs comedy routines live and spent 11 years in Coronation Street as cabbie Lloyd.
Trivia
He lives in Somerset in a country house, complete with deer in the 40 acres of grounds.
Books / Tapes
The Log (audio casette)
Contact
United Agents, 12-26 Lexington Street, London W1F 0LE
Web links
Feedback