Dancing on Wheels
Host
Voiceover: Preeya Kalidas
Co-hosts
Choreographer: Brian Fortuna
Judges: Ade Adepitan, James Jordan, Ola Jordan
Broadcast
Fever Media for BBC Three, 11 February - 18 March 2010 (6 episodes in 1 series)
Synopsis
Six wheelchair users are paired up with celebrities and taught how to dance by Strictly's Brian Fortuna, who has taught wheelchair dancing for several years. Each week sees half the couples learning one dance, while the other half learn a different dance. Each programme follows the couples through their practice sessions, before focusing on their performance in front of the judging panel. After seeing each couple perform, the judges make their decision on which couple will be eliminated. The field is narrowed week by week, until only one couple is left, who then go forward to compete in the Wheelchair Dance Sport European Championships, in Israel (and yes, you're right, Israel isn't in Europe).
While its heart was mostly in the right place, BBC Three's delay in scheduling the series meant it suffered somewhat from what we'll call World's Strongest Man Syndrome - the (sadly not entirely unwarranted) assumption that the final result was of sufficiently little real-world interest that it could still be treated as a matter of surprise and suspense when the show finally aired several months after the competition for which it was the qualifier.
Participants
Heather Small (singer)
Mark Foster (swimmer)
Caroline Flack (presenter)
Martin Offiah (rugby player)
Michelle Gayle (actor)
Kevin Sacre (actor).
Champions
James O'Shea and Caroline Flack - who went on to place 16th out of 18 couples in their class at the European Wheelchair Dance Championships.
Pictures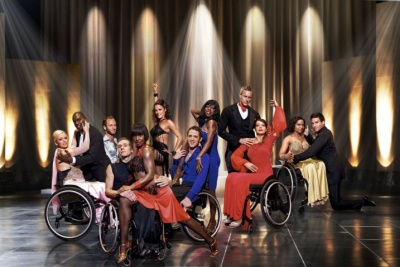 The assembled throng
Feedback