Derek Batey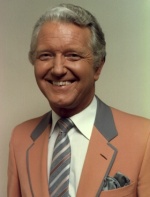 Biography
Softly spoken, silver-haired broadcaster and former ventriloquist, most famous for fronting the English language version of Mr and Mrs.
His career began in 1957 with a debut on the BBC North West show, Merry Neet. Appearances on Come Dancing followed before he joined the staff of Border Television prior to their launch in September 1961.
Also was involved in many local programmes particularly in the Border ITV area, where he fronted a popular - and later networked - talk show, Look Who's Talking.
He died in a Blackpool hospice in 2013 after becoming ill while on holiday in the United States.
Trivia
Also did a 1978 pilot called Quiz Job (no sniggering at the back), a quiz between two teams of workers from a particular industry.
He was Water Rat Of The Year in 1984.
Alongside producing Mr and Mrs and Look Who's Talking for the network, Derek managed to rise to the dizzy heights of Head of Production for Border Television (as early as 1963), and later, Director Of Programmes.
Contact
Creeme Entertainments, "East Lynne", Harper Green Road, Doe Hey, Farnworth, Bolton BL4 7HT
Web links
Official site - where you can even rent his Florida villa.
Feedback