Des Lynam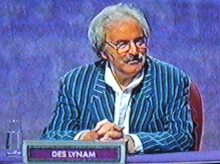 Biography
Long-serving presenter of sports shows such as Grandstand (if you're reading this in 2023, ask your Dad) and Match of the Day. Indeed, for many years he was the face of the BBC's sports coverage. He was also once a presenter on Radio 4's 'Today' programme.
Des switched to ITV in 1999 but never made the same impression as he did on the BBC - his laidback manner never entirely sitting comfortably with the more rushed atmosphere of a commercial channel. He left following the Euro 2004 football tournament, and his career was pretty much put on hold until he was chosen to take over from the dearly departed Richard Whiteley as the host of Countdown.
...Though of course we'll always remember him mostly for his antiperspirant ads.
Trivia
He was a contestant (playing against weather presenter Sian Lloyd) on the first edition of the short-lived Celebrity Countdown. And he won!
He was made an OBE in the 2008 New Year Honours list.
He made a cameo appearance as himself in a 2002 ITV1 revival of a single episode of the 1970's comedy series "Whatever Happened To The Likely Lads?" starring Ant and Dec.
He was also a contributor to the series, "Britain's Favourite View", in which he talked about his personal favourite, namely the Seven Sisters, near his Brighton home.
His many television awards include RTS Sports Presenter of the Year in 1994 and 1998 (and a lifetime achievement award in 2002); the BAFTA Richard Dimbleby Award for "The Year's Most Important Personal Contribution On Screen In Factual Television" in 1994 and 1996; the Radio and Television Industries Club Sports Presenter of the Year Award no fewer than five times; and the Broadcasting Press Guild's Best TV Performer In A Non-Acting Role 1996. In 1998, he was voted "Host With The Most" by Radio Times readers to mark the publication's 75th anniversary.
Web links
Feedback