Draw It!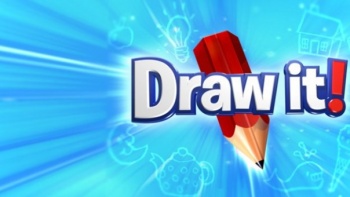 Host
Broadcast
Victory Television for Channel 4, 5 May to 4 July 2014 (40 episodes in 1 series)
Synopsis
In early 2012, there was a game on the internet, Draw Something. Players challenged each other to draw the titular something and guess what it was. Fun while it lasted, the game soon lost its novelty.
A year later, Channel 4 proved how hip and happening it was by commissioning a series about this now-uncool fad.
A year later, the show made it to air.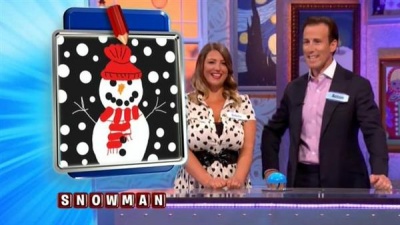 Do you want to build a snowman?
Channel 4's hip and happening press release told us that there were three rounds of timed drawing challenges for players and celebrity partners to bank some cash. Contestant Quick Draw had the civilian players drawing three words - £100 for an easy word, £200 for a medium one, and £300 for a difficult word. Quick on the Draw was a buzzer round, with submitted artwork available for £200. Celebrity Quick Draw had (yes) the celebrity drawing for 90 seconds, with £300 for each correct answer.
All of these could be made easier by taking the "word jumble", an anagram of the right answer, but this halved the amount of cash available.
The daily winners still needed to solve three more words in the Draw to Win round. Again, it's an easy, a medium, and a hard word, with only one word jumble at the player's disposal. All three had to be answered in one minute to win the prize. Solve the words without using the word jumble at all, and the prize is doubled.
The week's two highest-scoring winners came back for Big Money Friday, where all the cash amounts were doubled, and the award for completing Draw to Win without using the word jumble shot up to £50,000.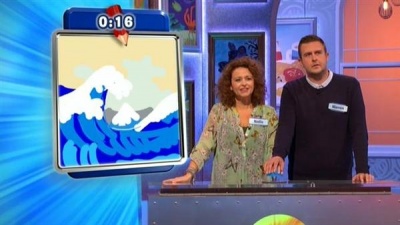 Wave if you know the answer.
Draw It! was a brightly-lit and friendly show, it crackled with energy and rarely stopped being entertaining. There were little touches for regular viewers - artwork moved around the side of the studio, and Mel described the viewer-submitted drawings as though they were pictures on Take Hart. As was typical of Channel 4's daytime schedule at the time, viewing figures weren't all that good.
Inventor
Based on the OMGPOP game Draw Something, acquired by Zynga at the peak of the bubble.
Web links
See also
Feedback