Face the Music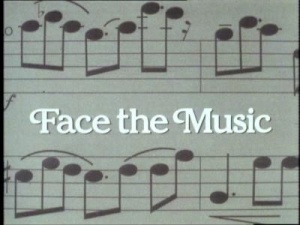 Host
Joseph Cooper (1966-84)
John Sergeant (2007)
Broadcast
BBC2, 26 December 1966 to 25 December 1979 (Pilot + 113 episodes in 9 series, 1966 as Music Quiz)
BBC1, 17 April 1983 to 16 December 1984 (14 episodes in 2 series)
BBC Four, 1 July 2007
Synopsis
Gentle classical music based quiz, an adpatation for TV of the radio format Call the Tune. Three celebrities would try and identify classical music pieces disguised in some way.
About halfway through, a musical guest would be brought in and they faced a set of questions of their own, usually intended to provoke some anecdotes from their own career.
The most memorable round was the Dummy Keyboard where Cooper played on a silent piano and our celebs were challenged to identify the piece of music merely from the hand movements of the host playing the rattling keys. Cooper reported in his autobiography that when people couldn't remember his name, they would often refer to him as "Mr. Dummy Keyboard". Other rounds included Funny Opera in which visual footage of one opera was played along with audio from another, the panellists having to identify both, and Hidden Melody, a showcase for Joseph Cooper's improvisational skills as he performed a famous piece in the style of another composer.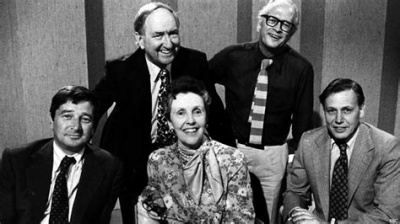 Joseph Cooper and producer Walter Todds face the... camera, along with panellists Robin Ray, Joyce Grenfell and David Attenborough
David Attenborough, Patrick Moore, Richard Baker, Bernard Levin, Michael Bentine, Joyce Grenfell and Robin Ray were regulars.
The programme returned in 2007 for what the BBC were keen to stress was a pilot episode rather than an intentional one-off, with the dummy keyboard now played in a non-scoring round by one of the contestants.
Inventor
Walter Todds
Trivia
The show was originally produced in London, but moved to Manchester in 1971.
Following Joseph Cooper's death in 2001, an edition of the original series (from around 1971) was shown on BBC2 as a tribute. The panellists on that show were Richard Baker, Joyce Grenfell and Robin Ray, while the special guest was the composer William Walton. It was nice to see the show again after such a long time, but also rather sad to note that Baker was the only surviving participant since the original transmission. Just before the repeat, he had paid an affectionate tribute to the show and to Cooper's talents, as well as those of Grenfell, whom he described as 'the queen bee' of the panel, i.e. very much the life and soul of the show. Baker also remembered Ray's virtually encyclopedic musical knowledge, but was very modest about his own contribution, which was every bit as important and impressive as that of the others - after all, he has always been very much in the musical scene, both on TV and on radio.
The teams in the 2007 pilot were comedian Rainer Hersch with newsreader Katie Derham and impressionist Rory Bremner with cellist Steven Isserlis. Unlike the original, there was scoring - Hersch and Derham won.
Theme music
The Popular Song from William Walton's Façade suite.
In the 2007 version, a reworking of Edward Elgar's Pomp and Circumstance March No.1, arranged by Hugo de Chaire.
Web links
Opening titles from 1973, 1975, 1979, 1983 and 1984 in the BBC Motion Graphics Archive
Feedback