Funz & Gamez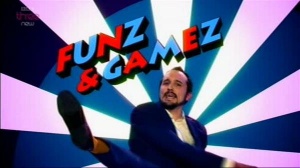 Host
Phil Ellis
Co-hosts
Jim the Elf (James Meehan)
Bonzo the Dog (Will Duggan)
Uncle Mick (Mick Ferry)
Cleaner (Janice Connolly)
Broadcast
As part of BBC Comedy Feeds 2015: BBC Three, 22 September 2015
Synopsis
The billing: "Lots of happy families join Phil and his gang in a series of simple but somewhat twisted games and challenges."
Based on the Edinburgh Festival show, Funz and Gamez comprised family games with something very dark just below the surface.
For example, a child was invited to choose whether to gunge mummy or daddy; he'd get a prize for gunging just one. Both parents pleaded for why they should be spared, and why the other should get a dollop of BBC gunge.
For older viewers, there's a lot of comedy. Phil conceals his sadness behind a mask of jokes, but lets the mask slip often enough. Do you love mummy or daddy more? Do you recognise things from your own house?
A very entertaining television version of this theatre show.
Inventor
Phil Ellis
Web links
See also
Feedback