Gabrielle Richens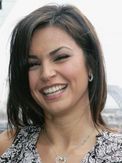 Biography
Half-English, half-South African model who has worked in Australia for a while, presenting Love Rules - their version of Streetmate. Graces the cover of lads mags periodically and, er, well we're sure she fills in the days somehow.
Trivia
Competed in the first series of Australia's very own version of Strictly Come Dancing, the descriptively-titled Dancing With The Stars, and also in the Australian Celebrity Survivor.
Her nickname is the Pleasure Machine. Oo-er missus.
She was voted 'Third Sexiest Woman in the Planet' by FHM.
Contact
To be completed
Web links
Feedback