Game of Attraction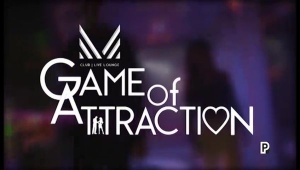 Host
Yvie Burnett and George Hancorn
Co-hosts
Daniel Glyn (voiceover)
David Maddock (psychic medium)
Broadcast
Made TV for Made in Birmingham, 17 October - 21 November 2017 (6 episodes in 1 series)
Synopsis
Okay, let's give this show the high-concept review it doesn't deserve: Choose Your Own Adventure.
You are the commissioner for a Local Television channel. You have a small budget for new local shows. Do you commission:
A) A series of documentaries showing off attractions in your region, that you can repeat endlessly for the next five years.
B) A one-off spectacular, to get the viewers talking.
You have chosen B.
You are offered product placement from the M Club, a nightclub in your local area. Your options are:
A) Accept the offer: they want to have the whole show filmed there, can offer a live final and a plausible environment for single people to meet.
B) Decline the offer, you'd rather find a studio location of your own.
You have chosen A.
Good stuff, that ekes out your budget, and lets you run for six hours instead of three. Your chosen format is a dating show, with similarities to shows like Love Island and MTV's Are You the One?
Because you've chosen to set it in a nightclub, the singles can only mingle in the nightclub set. You'll have to make a Room of Attraction, a space for the singles to confess their crushes, and this will always feel like an awkward compromise.
Who will present the show? Your options are:
A) One of the existing presenters on your local channel, a household name in their own household.
B) An up-and-coming talent from stage school or Youtube, someone who could be confused for the contestants.
C) An older presenter with some modest fame.
D) Don't bother with a host, let the contestants narrate the show in voiceover.
You have chosen B and C.
Yvie Burnett is the main host, a singer and vocal coach on shows such as The X Factor. George Hancorn does interviews with the players. David Maddock also appeared on the shows, providing commentary on "body language" and "spiritualism"; a similar role to Mystic Meg two decades earlier. Daniel Glyn provided a voiceover with a slight Scottish burr.
A dating show is a dating show, you'll set the singles some challenges and exercises, hoping to encourage them to couple up. Your show is going out at 8pm, so it'll be all "couple up" and not "cop off", thanks.
How will viewers distinguish your show from other dating programmes?
A) You'll cast some same-sex couples, in a way Love Island conspicuously doesn't.
B) Contestants can only date each other by letter.
You have chosen A.
Welcome to the twenty-first century.
Love Island might spend all its days on sunny beaches and a lovely villa. This show's top prize was a week in Portugal - for the winners only.
By the penultimate episode, you'll be down to four couples, and will put them to the public vote. How will you finish the series?
A) With a quick turnaround final, edited in the slick style that you've hinted at but not fully developed.
B) With a live final, showing all your channel's skills at live outside broadcasts.
You have chosen B.
Yeah, good luck with that.
The live final was filled with problems. Yvie couldn't hear the talkback from the gallery, and constantly missed her cues. Contestants walked into shot a few seconds after their name was called - almost unnoticed in real life, but an age in television time. At one point, Yvie throws to a break early, and we see her go downstage to talk with the remaining contestants; their frank opinions used language not suitable for broadcast, but no-one believed they were being broadcast.
There were some strong points to the live final. Mystic predictor David Maddock guessed the result of the public vote before it began. The "best bits" were slickly edited and packed a punch. George Hancorn had the difficult interviews with losers, and handled high emotions with aplomb - when a contestant lets fly with expletives, it's best to apologise, cut her out of shot, and move on.
Game of Attraction never managed to believe its own conceit. "It's a show at the end of the day", said one contestant in the final. We might want to believe that they're in it for love, not money, but our belief just got unsuspended.
We won't remember Game of Attraction for its novelty; same-sex couples are an unexceptional part of the television landscape, and Love Island looks churlish for ignoring them. Nor will we remember it for the winners.
We'll remember Game of Attraction for its live final. A lesson in how difficult it is to do television well, and how thin is the line between success and failure.
Champions
Jordan and Mathew
Inventor
Based on an idea by Mark Bos, the show's executive producer.
Trivia
Game of Attraction also aired on Made's other local television stations in Cardiff, Bristol, Tyneside, Leeds, Liverpool, Teesside, and North Wales.
The show publicised the hashtag #mcgoa. This promoted the sponsoring venue, "M Club".
Feedback