Gilbert Harding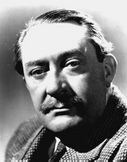 Biography
Grumpy journalist, occasional actor and former policeman who was both loved and loathed in equal measure in the same way that, say, Anne Robinson is today. Through appearances on panel games such as What's My Line?, millions of viewers tuned in to see his outbursts as he was frequently overtly rude to hosts, guests, panellists and even his producers.
In 1960, he gave an emotional interview on Face to Face, where - in tears - he openly declared how much he hated being a TV celebrity for no good reason. He died of a heart attack two months later.
Trivia
His first job with the BBC was working in the BBC Monitoring service (which still exists) during WW2 - the service was set up to monitor foreign radio broadcasts for anything of interest, and Harding's job was to prepare a daily digest for the benefit of the War Office.
He was thrown off shows twice for being drunk; once from an edition of One Minute Please by Roy Plomley, and once as host of Twenty Questions by producer Ian Messiter.
His homosexuality was not revealed during his lifetime (particularly as such a thing was illegal in those days) though he hinted at it in his autobiography by alluding to "other reasons [apart from then being in his mid-40s] that, so far as I can see, will keep me from marrying".
Feedback