Got What It Takes?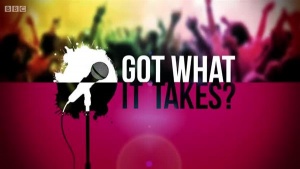 Host
Lauren Platt (2016 - spring 2018)
Anna Maynard (autumn 2018)
Co-hosts
David Tench (Musical Director, 2016 - spring 2018)
Kevin Adams (Games Guru)
Jaymi Hensley (web content and final co-host, spring 2018)
Max Cooke (Musical Director, autumn 2018 -)
Broadcast
Rize USA for CBBC, 6 January to 3 June 2016 (11 episodes in 1 series)
Lincoln Square (a division of Walt Disney EMEA) for CBBC, 7 February 2017 to 28 September 2018 (22 episodes in 2 series + 1 special)
Bitachon 360 for CBBC, 24 September 2018 to present
Synopsis
Eight young singers and their mothers learn about the music business. The winner gets a place at Radio 1's Big Weekend concert.
Each episode begins with the performers rehearsing a popular song, working with each other and with musical director David Tench. Only three will perform at the end of the show.
Then the performers learn about something in the showbiz industry. They're helped by a guest star - Diversity, Cel Spellman, Carrie Hope Fletcher, Lucy Spraggan. The guest tests the elite eight, and selects two to go through to the sing-off.
The mothers have a physical challenge - an assault course, hamster-ball skittles, penalties against the England goalie. Whoever wins this test pushes their child into the final slot. Kevin Adams motivates like a tough but fair PE teacher.
David Tench gives further advice, and helps to work out the arrangements for the sing-off. Then the three perform to an elite audience - their own mothers. Votes and a weekly winner follow.
After eight weeks of this, one performer has won and goes straight through to the final. The other seven get to perform one song for the viewing audience; the top three in a viewer's vote also progress to the final.
Two performances each in the final, filmed in a proper studio with an audience of cheering fans. The winner is voted from the mothers and from invited guest judges. The winner performs at Radio 1's Big Weekend concert.
Lauren Platt narrates the show; she also presents the introduction and sing-off phases. Lauren was a success on The X Factor a couple of years ago, but Got What It Takes? is a world away from that show's overblown facade. There are no eliminations, the environment is supportive, and it looked like all of the contenders learned greatly from the experience.
For its fourth series, Got What It Takes? moved from a spring transmission to the preceeding autumn. This didn't alter the filming schedule - everything's made in the school summer holidays - and allows a repeat in the run-up to Radio 1's Big Weekend. Anna Maynard (sister of singer Conor Maynard) took over as presenter, with Max Cooke the new musical director. Kevin Adams remained as the PE teacher everyone's mother dislikes.
Champions
2016 - Amaria
2017 - Jorja
Spring 2018 - Rio
Autumn 2018 - Lauren
2020 - Georgie
Inventor
Format created by Small World Media, distributed by Small World IFT. Originally aired in Romania under the title Mom Made Me a Star.
Title Music
Tonino Speciale
Trivia
Rai-Elle Williams made the final of Got What It Takes? in early 2016. By autumn 2017, she was in the live shows on The X Factor, and made the final ten.
Web content for series 3 (spring 2018) was hosted by Jaymi Hemsley of pop group Union J.
Each series is comprised of 8 weekly challenges, a sing-off amongst the other contenders, a grand final, and a programme following the winner as they perform at the Big Weekend. A special episode, "The Story So Far", caught up with performers from the first three series; though made as part of series 3, it was transmitted after series 4 had begun.
Web links
See also
Feedback