Gregg Wallace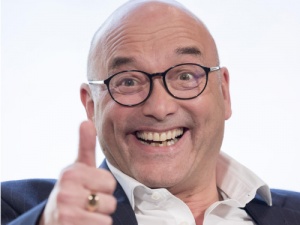 Biography
London-born former greengrocer whose big break was hosting Radio 4's Veg Talk. He's since become best known as his sometime grocery client John Torode's co-judge on Masterchef and has presented various other programmes, not always food-related. One other particularly notable show is Eat Well For Less, in which he and fellow greengrocer Chris Bavin (Britain's Best Home Cook) help families to shop more economically and cook more healthily.
Whenever he's around, expect jokes about his love of pudding, his baldness, and his four marriages.
Trivia
He and Torode were the first (and so far only) co-hosts of an episode of Have I Got News for You, in 2011.
Web links
Feedback