Handmade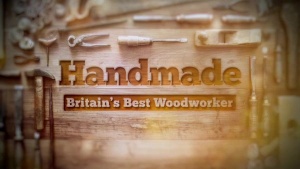 Host
Co-hosts
Judges:
Alex de Rijke (2021)
Helen Welch (2021)
Sophie Sellu (2022-)
Tom Dyckhoff (2022-)
Broadcast
Plimsoll Productions for Channel 4, 21 October 2021 to present
Synopsis
Woodworking competition in the one-goes-each-week style.
The woodworkers are given two days to complete a "Big Build". It's a massive project, like a bed, a doll's house, or a chair.
Our woodworkers have had chance to design this big project ahead of time, and have ordered in the raw materials. They can also call on some additional labour for the tricky bits.
The judges know what they're looking for. Some of the criteria are obvious, a chair is something you've got to sit in and be comfortable sitting in. Some are not obvious: the bed had to be 2m high, with good joins and good use of wood. And it's got to be expressive, have some sense of style.
Handmade talks a lot about specific techniques, which can mystify the viewer. We're shown what it is, and then told how it works. Jargon is explained and demystified: we appreciate the smuggled educational nugget.
Near the end of the first day, work stops on the Big Build, as it's time for a Skills Test. The woodworkers have an hour to make something small: a printing block, or whittle some spoons. Best performer in this test is immune from elimination at the end of the episode, because the worst performer is eliminated at the end of the episode.
Mel Giedroyc hosts, with her usual warm and unsubtle jokes. Judges Alex de Rijke and Helen Welch have the calm assuredness of people who know what they're talking about. And the woodworkers have proven to be an affable and personable bunch of people.
Handmade went out on Thursdays at 8, a suitable distance from Bake Off on Tuesdays at 8. Inevitably, there are comparisons between the shows, and we wonder if Handmade will ever achieve the same cultural crossover. Anyone can turn their hand to baking, or sewing as on Sewing Bee. Woodwork - especially at the scale shown on Handmade - isn't something the interested viewer can start easily, it requires time and relatively expensive tools.
For what it is, though, Handmade proved to be popular and successful, resulting in Channel 4 swiftly inking a deal for two more series.
Champion
| | |
| --- | --- |
| 2021 | Misti Leitz |
| 2022 | Lauren Wood |
| 2023 | Nathanael Griffiths |
Trivia
Usually billed as Handmade: Britain's Best Woodworker, and publicised the hashtag #BritainsBestWoodworker - which is probably what they should have called it in the first place. Better yet, they could have stuck with the working title they originally announced: Good With Wood.
The second series saw one contestant drop out after the first episode for "personal reasons". Fortunately this was early enough for the producers to call on a reserve contestant who stepped in from episode 2.
Web links
See also
The Chop, a broadly similar concept but with less rigorous vetting of contestants.
Feedback