Hoe Down
Host
Co-hosts
Broadcast
BBC1, 28 July to 8 September 1978
Synopsis
Here's fun - a knockout competition between teams from Young Farmers' Clubs up and down the land. We don't actually remember it ourselves, but it sounds like a blast. Games included tractor handling, milking a cow by hand, sheaf tossing, casting a cow (plaster of Paris?), penning a pig, "Combine Harvesters" (?), Guessing Old Machines (man trap, eel spear, sythe carborundum, barley buneler), "assembling accrobats" (your guess is as good as ours... but see below), "Fork Lifts + Potato Pallets", duck driving, "3-way sheep herding gates" and "relay race with straw bales".
And that's not all! There were also features such as Lance Percival interviewing Miss Young Farmer 1978 ("no name given", according to the BBC database) and, thrillingly, "Ted MOULT demos large infra-red loctronic [sic] potato selector". Plus musical interludes by top they'll-do-if-the-Wurzels-aren't-available West Country combo The Yetties, including such classic numbers as "Bandy Bertha's Birthday", "Have a Drink on Me" and "Fling It Here, Fling It There".
We're not sure which is more amazing: that back when there were only three channels, this managed to get a primetime slot; or that now there are literally hundreds, not one of them has seen fit to repeat it. Not that it could possibly live up to our imagination, of course.
Trivia
Interestingly, one of the programme categeories assigned to this in the BBC INFAX database is "oddness (abnormality)". From which you can draw whatever inference you like.
It went out opposite The Krypton Factor on ITV.
Apparently, the mystery object called an "acrobat" (one "c", not two) is a kind of rotary rake. We searched for ages for a picture of one, and then we looked out of the window one morning and lo! there one was. And here it is.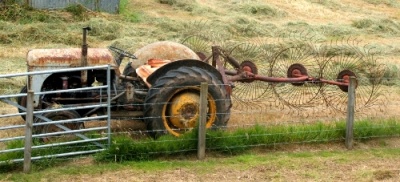 You'll have someone's eye out with that. Also their kidneys.
Feedback