In for a Penny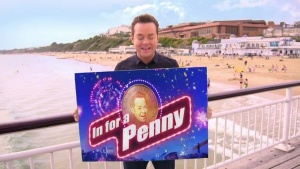 Host
Broadcast
As segment on Saturday Night Takeaway: 11 March 2017 - 7 April 2018 (6 episodes)
As standalone show: ITV Studios and Mitre Television for ITV, 13 April 2019 to 26 December 2020 (14 episodes in 2 series + 2 specials)
Lifted Entertainment and Mitre Television for ITV, 17 April 2021 to present
Synopsis
Stephen Mulhern takes his spangly Game Show Jacket™ round the streets and shopping centres of Britain, asking if anyone's got a penny. Anyone who has will take part in his surprise and increasingly bizarre game show, where the top prize is £1000.
The show takes its name from the signature game, In For a Penny, In For a Grand. Got a penny in your purse? You too can play! Stephen will ask you to complete five challenges. Sing a Tom Jones hit! Get three marshmellows out of a bowl of flour using only your mouth! Spell "Newcastle" backwards! Catch an egg Stephen throws up in the air! Count to ten seconds! Complete all five of these tasks to win £1000!!!
This challenge was a segment on Saturday Night Takeaway, and ITV chose to make a full show from the basic idea. "In for a Penny" works as a six-minute segment, so Stephen plays some other games in the half-hour show, for cash or other valuable prizes.
Check it Out Stephen masquerades as a supermarket checkout operator. He'll pick four items from the trolley: our player is asked whether the next item is more expensive or cheaper than the last. Get all three decisions right and Stephen's paying for your entire shop. A combination of Play Your Cards Right and of Supermarket Sweep.
Pump It Up At the petrol station, Stephen asks his players to pump some petrol. Before they start, the players name exactly how much they wanted to spend on petrol. If they can hit it exactly in no more than two pumps, Stephen's paying for the entire tank. Fall short, or go over by a single penny, and the bill is still yours.
Balanced Diet One person has a minute to balance as much fruit and veg as they can onto their partner. Whoever's holding the greengrocery tries to balance it for a further 10 seconds. Success: win five times the value of the fruit and veg.
Pablo Petcasso Draw an animal; if your friend can guess it, you'll win £20. Repeat for five animals. Played in a pet shop.
Weigh to Go How heavy is your suitcase? Stephen is at an airport and asks players to predict the weight of their case. Get it wrong, and our players can add or remove items to make the original claimed weight. Be spot on in no more than three guesses to win £100.
Whatever The Weather Here are five buckets. Four are filled with water, and one with confetti. Pick three buckets; if one of them is the one with confetti, win £50.
Believe In Your Selfie is a head-to-head match. Stephen takes a selfie with each contender. Our players then select one person to receive the selfie, along with the question: "who is this?". The first person to receive a reply with the correct answer wins £50.
Mum's the Word Call up your mother, and get her to say a particular word in 30 seconds. Just to make it more difficult, there are three banned words that cannot be spoken.
And the show always finishes with the grand finale. In for a Penny.... In for a Grand – put forward one new penny, complete five challenges, and win £1000.
In for a Penny is tightly edited, keeps the tempo high and the show's always moving forward. There is a house style to all the elements: someone literally holds up a card with the name of the segment, while Stephen does something a bit daft.
Stephen Mulhern is the one man frenzy. He whirls through town, and gets people to do unusual and entertaining things for money. We viewers can only hold tight, and follow his trail of shock and awesome. What will Stephen Mulhern do next? That's a tremendous part of the fun, we have no idea what will happen, only that something extraordinary will, and very soon.
Stephen Mulhern is at the heart of every challenge. This is his show, this is his star vehicle, and he's going to make the best show he can. When Stephen Mulhern sets out to make a great entertainment show, we get a great entertainment show.
The combination of spontaneity, fun, and madcap silliness proves an infectious cocktail. Stephen Mulhern comes across as everyone's daring older brother, cheeky and full of energy and with bags of silly ideas. No-one is made to look foolish, even the losers look like they're enjoying their five minutes of fame.
It's not everyone's cup of tea, but In for a Penny hit the same entertainment sweet spot as Saturday Night Takeaway. One of the biggest shows for children, something the entire family can watch together, and with enough to draw in even the most cynical viewer.
Catchphrases
Un-believable!
He's only gone and done it!
Trivia
Retitled In for a Cent when made for Saturday Night Takeaway trips to Florida.
The second series was brought forward by two weeks as a consequence of the Covid-19 pandemic.
Web links
See also
Ready or Not, a BBC1 series made in 2018.
Feedback