Jedward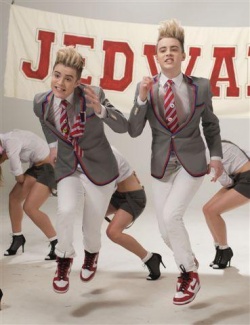 Biography
Born on 16th October 1991, in Dublin, the big-haired twins first came to public attention in 2009, when they participated in the the sixth series of The X Factor. Despite having Louis Walsh championing their cause, they left the competition in week 7. Since then, they have developed a music career, releasing their debut album Planet Jedward in July 2010, and their second album Victory in August 2011. Despite regular appearances in the media, and their general notoriety, their music career has been rather more successful in their native Ireland, with the duo regularly topping both the single and album charts, while in the UK, their releases have routinely posed no trouble to either chart. As a result of their popularity at home, they were chosen by the Irish voting public to represent the country at the 2011 Eurovision Song Contest, ultimately finishing in a creditable eighth place, three places ahead of re-formed boyband Blue, representing the UK. The duo represented Ireland again in the 2012 Eurovision Song Contest, this time finishing in 19th place, once again beating the UK's entry, Engelbert Humperdinck, who finished 25th. Away from music, they have continued to appear on various TV programmes, including a stint on the 2011 series of Celebrity Big Brother which reportedly earned them a £1 million fee.
Trivia
Their full names are John Paul Henry Daniel Richard Grimes and Edward Peter Anthony Kevin Patrick Grimes. Apparently, their 'collective' name was coined by their mother, who used to frequently shout out, "Jedward!" in moments of confusion as to which twin she was calling.
Back when they still had quiffs, they reportedly used one can of hairspray every day; they shaved off their quiffs live on 26 March 2021's edition of RTE's Late Late Show to raise funds for the Irish Cancer Society's Daffodil Day appeal.
Web links
Feedback