Jim Pope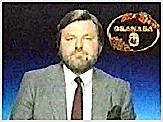 Biography
Over 20 years service as announcer of University Challenge probably does justice for this long-standing Granada TV announcer who began his career behind the scenes in BBC radio before switching to television (thanks to a little advice from Pat Phoenix, see Trivia) as an announcer for HTV West in the late 60s and early 70s.
He then switched to Granada, just shortly before the death of their senior announcer Don Murray Henderson meant he was to take on the role as UC's longest serving V/O man.
Jim worked alongside the likes of Colin Weston and Charles Foster until he retired from the company in the mid-90s. He continued with voice-over work (and University Challenge) until his death in November 2001.
Trivia
Jim was also one of the regular narrators for World In Action and read the news for the North West in Granada Reports bulletins.
His radio work included providing spot sound effects for the likes of The Goon Show and Hancock's Half Hour.
On the night Coronation Street actress Pat Phoenix died, Jim delievered this tribute at closedown on Granada:
We all have our own thoughts and memories. Mine go back 21 years infact to a day in a radio studio. I was doing something and a very famous and kind and generous actress took me on one side and told me she thought I got a good voice and that I'd ought to do something with it. Well, I did. What I didn't do ever was really to probably thank her for it.....and now, it's too late. Goodnight.
Web links
Feedback