Jools Holland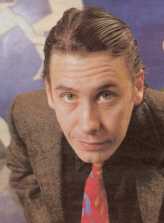 Biography
Let's get this straight - Jools Holland isn't a game show presenter, he's a musician who just happens to have presented two music quizzes.
An accomplished pianist, it was his uncle that first introduced him to the boogie-woogie musical style. After being expelled from school at 15, he earned a living playing in any venue that would take him.
Although he didn't exactly co-host the show, nevertheless he and his band performed on Don't Forget Your Toothbrush with Chris Evans. His extremely laid-back style is endearing but has not led to his own quiz series being commissioned for any great length of time.
He currently presents Later, his own BBC2 music show, and performs regularly around the country.
Trivia
Jools is a (not so) secret transport enthusiast, sharing a love of cars, planes and trains.
Books / Tapes
The Rolling Stones: a Life on the Road
Web links
Feedback