Lulu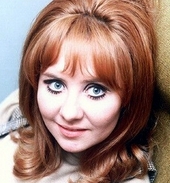 Biography
Scottish singer with a career spanning four and a bit decades. She's also done the whole light entertainment thing, acting and presenting various TV shows.
Trivia
She has been married to the late Maurice Gibb of the Bee Gees, and hairdresser John Frieda.
In 1974 she sang the title song for the James Bond movie The Man With The Golden Gun. It was the only Bond theme ever to flop as a single.
Web links
Feedback