Magic Micro Mission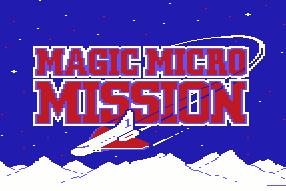 Host
Jo Wheeler
Co-hosts
Adrian Hedley and John Barker
Broadcast
Central for ITV, 9 November to 21 December 1983
Synopsis
Taking time out from Jigsaw, Adrian Hedley pilots a spaceship around the galaxy, 5000 light years away from Earth.
To help demystify the computer technology of the day, viewer-friendly celebrities were invited to play computer games of the Spectrum / Commodore 64 era. Jo Wheeler acted as second-in-command, and an expert, Egghead, gave advice.
Trivia
The show's titles were created on a state-of-the-art Atari 800.
A special Central ident was also produced for the programme.
The ship had a computer, which was an echoey voice around the studio, called Prune.
More comedically, the sign of an M was made with 3 fingers against one's palm in order to certify that "You are with the Mission"!
Special guests included David Gower (episode 3), Rick Wakeman, and Landscape playing their tune Einstein a Go Go.
The show featured a regular panel of five shoolchildren whose task was to play and review the latest computer games, assisted by celebrity guests. The panel members were: Stephen Martin, Robin ?, Lesley ?, Laura ? and Mandy ?.
Inventor
Simon Goodwin writes: "The programme proposal was written by Graeme Kidd (who went on to be editor of various computer magazines and is now mayor of Ludlow) and me, Simon N Goodwin (1500 words each). We both joined the production team when the series was commissioned by Terry Johnston. It was edited by Geoff Negus."
Web links
Feedback