Magnus Magnusson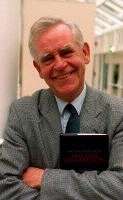 Biography
I still get taxi drivers who say 'Aha - Starter for ten!' and I have to say 'wrong bloody programme'. - Magnus Magnusson, 2002
Vying with Bjork for the title of Britain's favourite Icelander, where he was born in 1929, Magnus Magnusson grew up in Edinburgh where his father was the Icelandic consul. He was a journalist before shooting to fame through Mastermind, but he also had the scholarly credentials to back-up the erudite image, having written extensively on the history and culture of Iceland, and translating many of the Icelandic sagas into English.
He was diagnosed with cancer on his 77th birthday on 12 October 2006, and died just under three months later, on 7 January 2007.
Trivia
He was presented with the original Mastermind chair when the series ended in 1997. Famously he always refused to sit in it until the very last show, despite constantly being requested to do so. His reason was that he didn't want to be compared to the clever people who came on the programme.
Probably his last-ever TV appearance was, appropriately enough, presenting the trophy to the 2006 'Mastermind' champion, Geoff Thomas. Following Magnus's death, Thomas revealed that Magnus's appearance had been kept a secret from all the contenders until the end of the show - and it was no doubt particularly special for Thomas, who had previously been a contender on the show during Magnus's reign. The latter even knew that winning 'Mastermind' was one of Thomas's two ambitions, the other being to live to 100 - Magnus duly wished him luck on the latter.
He served as Rector of the University of Edinburgh from 1976 to 1979.
He was named Pipeman of the Year for 1978, and awarded an honorary knighthood in 1989.
One of his daughters, Sally Magnusson, is also famous - she has presented various programmes, including Songs of Praise and Breakfast Time, and viewers north of the border know her as one of the main anchors of Reporting Scotland. Appropriately enough, she presented the trophy to David Clark, the winner of the 2007/8 series of 'Mastermind', while also paying tribute to her father's legacy to the programme.
Books / Tapes
I've Started So I'll Finish (hardback) (paperback)
Web links
See also
Feedback