Marcus Bentley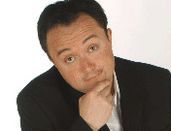 Biography
Prolific voiceover artiste famed for his geordie accent. For many years he could frequently be heard doing the continuity on Channel 4 until his departure from the broadcaster in July 2011. He is most famous for Big Brother which has made him a favourite with impressionists.
Trivia
He won an Edinburgh Fringe First Award for his stage show, Dead Fish.
He was given his role on Big Brother partly because the producers liked the way he said 'chickens'.
Web links
Feedback