Mari Lovgreen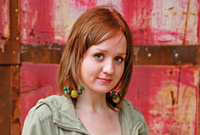 Biography
Caernarfon born-and-bred Mari Lovgreen is perhaps one of the most natural presenters of Welsh television. She is perhaps best known for her role as presenter of S4C's live teenage magazine show, Uned 5 between November 2004 and July 2009.
She also became one of the out-of-vision presenters of anarchic quiz show Waaa!! and took part in Y Brodias Fawr, where Welsh celebrities attempted to organise a wedding. Mari is also a correspondent and anchor for S4C's live marathon coverage of the Urdd and National Eisteddfods.
Trivia
Mari's father is Geraint Lovgreen, a legendary Welsh language singer-songwriter.
Mari won the Bafta Cymru award for Best Newcomer in 2006.
Feedback