One and Six Zeros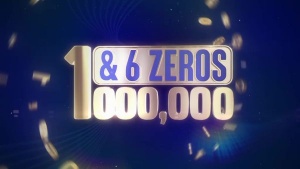 Host
Broadcast
Mighty Productions Scotland for Channel 4, 13 March to 17 April 2022 (6 episodes in 1 series)
Synopsis
Teams of three players start with £1 million and attempt to correctly answer seven general knowledge questions to keep the jackpot intact. Every right answer locks in a digit of the One and Six Zeros jackpot. Every wrong answer, however, loses a zero from the prize fund, and the money can quickly decline from £1 million to £100, or even less.
The team can also pass on a question, swap it out for another question. This doesn't count to their seven question total, and it comes at a price. At the start of the show, the team is playing for pounds, whole £1 coins. The first pass swaps that pound coin for the next one down, the 50p – the top prize is now half a million. Further passes swap down the list of coins, until they end up with a 1p piece.
Each question is multiple choice, with one correct answer and as many incorrect ones as there are zeros still in play. So our team always starts with seven possible answers, and they'll usually have five or more answers to consider. All of the questions are guessable, we find none of them particularly easy – there are no gimmees to start the show.
After three questions the team is then reduced to two players. After five questions, only one player remains to answer the final two questions and secure the prize money.
These players retire to the lobby. They're still miked up, Dara can hear them, we can hear them, but the continuing player(s) cannot, and the lobby players won't contribute to the game.
There are some interesting strategy questions. Who steps away from the team? What will this do to the team dynamic? When do you want to swap a question? Especially given that you completely don't know that you'll know the new question, it's always a complete shot in the dark.
Sadly, One and Six Zeros doesn't really explore these questions, or if it does it's buried beneath endless talking around the various answers. It's a very low-key show, the atmosphere never feels we're playing for a life-changing amount of money.
Inventor
Format created by Hugh Rycroft and the Mighty team
Title music
David Roper, credited as "Composer"
Trivia
We first heard about this show in summer 2021, when it was slated for "this autumn". It finally emerged in spring 2022, at 6pm on Sundays - that's not an orthodox slot for big prize shows.
Celebrity Karaoke Club Drag Edition queen Freida Slaves was a contestant on the second episode under their civilian name, Troy.
Sometimes billed as 1 and 6 Zeros, and less accurately as One and Six Zeroes.
Web links
See also
Feedback