Passport to Paradise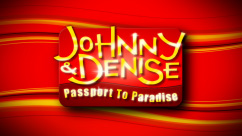 Synopsis
Summer filler in the traditional BBC LE style that quickly sank without trace.
Elements included:
Face Fits - Lookalikes come into the studio and Johnny and Denise have to guess which celebrities they look like. The winner gets a cheap plastic trophy.
The cameras hijack a live event, such as a concert, and Johnny and Denise ask people to ring in if they know anyone at that event. They're told to make themselves known (e.g. by waving or jumping up and down) then are guided to a telephone box and have to answer a question to win £2000 (£1000 for them, £1000 for the person who rang them). This frequently went wrong when nobody was signalling. Seems no-one was watching the show!
Members of the public are invited to send in mobile picture messages of them in silly attire. Johnny and Denise award a prize to the funniest one.
Denise sings in a musical number featuring several extras. Someone in the audience notices that these extras are in fact friends, relatives and ex-partners. They're invited onto the stage to answer questions to win prizes.
In the end game, one partner of a couple is in Paradise: on holiday somewhere abroad. They are asked five Mr and Mrs-style questions (about what the partner has been doing while they've been away) and must match three times. If they win the end game, the other partner joins them on hols. If they lose, the partner flies back to the UK to enjoy our "lovely" weather.
Trivia
It was originally going to be called Saturday Night Get Out and hosted by Cat Deeley.
Web links
Celador's Denise & Johnny: Passport To Paradise Page
Weaver's Week review - 17th July 2004
Pictures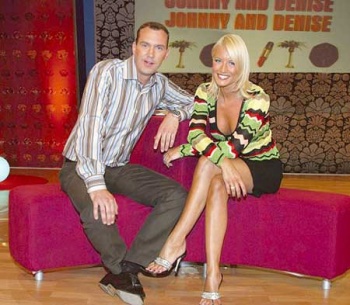 Johnny and Denise, pictured on an early prototype of the set
Feedback