Peter Purves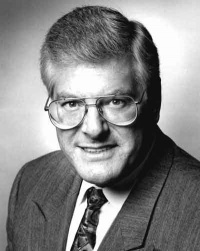 Biography
Actor and presenter with an extremely varied career. Apart from being a Doctor Who assistant, Blue Peter presenter, a presenter on the kids' sports programme "Stopwatch", a regular panto actor, darts commentating (on a BBC2 tournament called Bullseye - no, not that one), and 13 series of Kick Start he is probably best known these days for his association with Crufts, the dog show.
Trivia
He appears in an episode of The Office in a spoof corporate training video.
In 1987, he had a cameo role in EastEnders, interviewing the residents of Albert Square for a (fictional) TV documentary.
Although (unlike his colleague, the late John Noakes), Purves was not specifically given the title of "Daredevil" during his time on "Blue Peter", he certainly managed to do some hair-raising things on the programme. One of them was driving a stunt car through the sides of a furniture van - he stated afterwards, "You wouldn't get me to do it again - not for all the tea in China!" Other stunts including trying (valiantly but unsuccessfully) to swim the English Channel, climbing to the top of the rigging on the Forth Road Bridge and taking part in a circus trapeze act. He certainly more than earned his "Blue Peter" badge!
Web links
Feedback