Phil Drabble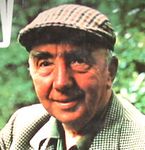 Biography
Erstwhile presenter of the BBC2 television coverage of watching sheep in a field (some even jumping over fences) for nearly 20 years. Left the heavy industry of Staffordshire's Black Country at the age of 47 to become a nature writer and conservationist. With his wife Jess, he set up a 90-acre woodland nature reserve next to which planners subequently threatened to build a 300,000-capacity leisure village for campers.
He initially resisted the BBC's attempts to lure him into presenting One Man and His Dog. When he left the show in 1993, he said, "When the BBC first asked me to present the programme in 1975, I refused because I thought it would be too boring for words."
He died in 2007, aged 93.
Trivia
He used to earn 45 shillings a week.
Phil Drabble was named Midlander of the Year in 1992, and appointed OBE in 1993.
In an interview for Radio Times in 1991, Drabble stated, "At lunchtime, I have red meat and cream and cheese, all the things the doctor says will kill me. If he's right, it's taking a long time - I'm now 77!" The fact that he lived on to the ripe old age of 93 probably proves that those foods didn't actually kill him - no doubt the exercise that he took with his dogs around his estate and when presenting 'One Man And His Dog' more than counterbalanced the effects of the food!
Books / Tapes
Web links
Feedback