Pitch Battle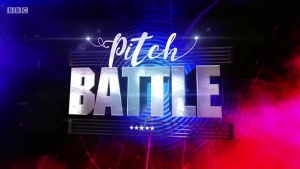 Host
Co-hosts
Gareth Malone, Kelis (judges)
Broadcast
Tuesday's Child for BBC One, 17 June to 22 July 2017 (6 episodes in 1 series)
Synopsis
Choirs perform to win a large cash prize.
Six choirs compete in each heat, and the show falls into two parts.
In head-to-head battles, each choir performs a piece of their own choice, then takes part in a "riff-off".
The winning choirs take part in a "solo battle", eliminating one. The last two choirs share the same song for the final battle.
The judges - Gareth Malone, Kelis, and a weekly guest - give constructive criticism, and decide the winners. To announce the winner, the guest left the judging panel and joined their winning choir.
For the series final, the guest judge remained with the winning choir, and performed with them on the opening show-stopper. The riff-off battle winners progressed to an a capella round. The final two went into a public vote to determine the winner.
Pitch Battle suffered from production problems. BBC1 has a poor dynamic range, so we couldn't hear the difference between quiet bits and loud bits - everything was a loud bit. It was clear from the visuals that the crowd is whooping and clapping, but we didn't hear this on screen.
Viewers said it didn't work as entertaining television, and turned off in their droves. Here are some people we've just met, singing their take on songs we know and love. If we want pop music karaoke, we can get it from The X Factor or The Voice.
Champions
Leeds Contemporary Singers
Inventor
Format devised by Tuesday's Child Television.
Title music
Deke Sharon was the series musical director. Jack Blume and Joanne Evans wrote the opening and incidental music.
Trivia
The guest judges were (in order): Will Young, Chaka Khan, Bebe Rexha, Seal, Joe Jonas. Joe was unable to make the final, so sent his brother Nick Jonas. A wildcard was selected for the final, accompanied by Jermaine Jackson.
A riff-off battle in episode 3 was edited down for sensitivity; the subject was "fire", and the show aired in the aftermath of a deadly fire at Grenfell Tower.
Web links
See also
Last Choir Standing, an earlier BBC effort to bring choir singing to Saturday night.
Gareth Malone had previously worked on The Choir, a documentary format with some competition elements.
Weaver's Week review. Further consideration arose from Sing later in 2017.
Feedback