Public Property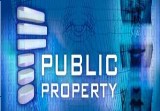 Host
Broadcast
United Productions / Gag Productions / Anglia for ITV, 22 January to 2 March 2001 (30 episodes in 1 series)
Synopsis
A major reality flop for ITV that was cancelled mid-run. In Public Property three people had their lives dictated by the public via web and phone votes. If the player didn't like the result, they could appeal to "the council", 15 members of the public who happened to be hanging round the studio, to get it changed.
The idea was at the end of the series whoever the public thought had made the most of the opportunities offered to them would win some sort of major prize. We don't think the series got that far though.
Inventor
Simon Goodman and Jerry Glover
Trivia
Originally commissioned for 60 episodes, the show was cancelled after 30, meaning 30 planned episodes were not produced.
Feedback