Random Choice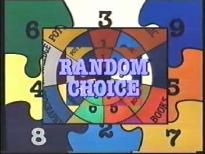 Host
Broadcast
Grampian TV, 1986
Synopsis
Local quiz on general knowledge and places in Scotland involving contestants' reaction speeds and employing the best electronic jigsaw pieces & wheels that Queen's Cross in Aberdeen had to offer.
Four contestants battled it out for attractive (well, attractive for 1986) prizes which increased in value as the questions got harder over the course of three rounds.
Trivia
All tapes of this series have been since thrown out from Grampian's archives (a similar fate befell another of Duffus' game show credits, Shammy Dab).
Feedback