Relatively Clever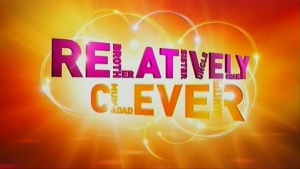 Host
Broadcast
John Stanley Productions for Sky 1, 3 April to 15 May 2015 (7 episodes in 1 series)
Synopsis
A very traditional family quiz.
Families of four take part. The teams are two children and two grown-ups, with some sort of relation running through the team.
Host Mel Giedroyc introduces the teams, then asks general knowledge questions on the buzzer. Ten points for a right answer, an error throws the question to the other team.
Each right answer lights a bulb on the team's desk (called a "pip", for no obvious reason). First team to light three bulbs earns an Advanced Question, a visual or music clue. This question is worth 20 points, and it can't be passed over. Then reset both teams' pips, and we're into another cycle.
After two Advanced Questions, the gong goes to mark a Head-to-Head contest. The teams are given a subject, and send one member to stand at the front. Mel asks ten general knowledge questions, ten points for each. The additional interest here is the generation gap: will Mrs. Smith be able to beat Young Whippersnapper Jones?
The second half of the show mixes it up a little. The "four to score" round requires four correct answers to earn the point, one from each member of the family. The game ends with three minutes of questions on the buzzers, played for double points.
Relatively Clever is a very safe programme; even the set decor was about twenty years behind the fashion. The questions are fair, if a little predictable. The format is familiar without being a carbon copy of anything. Viewers can stumble across this programme and leave it on, secure that it's the nice lady from the baking show, asking gentle questions to typical Sky families.
Champions
The Gordon family: Darren, Kaya, Cadeem, and Andrew
Inventor
Phil Tredinnick and Ben Walker
Theme music
Marc Sylvan is credited for "Music".
See also
Feedback