Resistance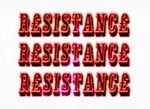 Synopsis
Two very clean people. How much money will it take for one of them to jump in a bath of mud?
This was the very odd but very funny premise of this BBC Three series. The money goes up (a la The People Versus Bong Game) and there's a cash ceiling. If the money hits the cash ceiling then nobody gets it. Sounds a bit like Distraction, really.
Inventor
The Chatterbox Partnership
Trivia
The original Spanish version is one of Spain's biggest shows, apparently.
Feedback