Rhestr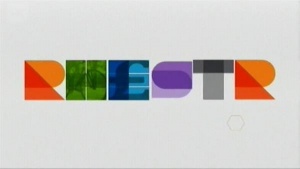 Host
Huw Stephens
Broadcast
S4C, 24 September to 17 December 2015 (12 episodes in 1 series)
Synopsis
An early app-along quiz.
Three pairs of contestants face four rounds of questions. Viewers at home can play along on the Rhestr app.
The rounds are not tremendously innovative. Round one is to put four items in order - it's the only one where each team plays on their own.
Round two is to work out the location behind a blurred picture; more of the picture is given for each answer, and the questions have something to do with the location.
Round three is to find the item that doesn't belong on a list, and round four to complete the list from four options. Both of these rounds are on the buzzers, but go very slowly. Host Huw Stevens has to fill for some seconds, while the app players catch up.
The prize round is to pick the five items (from a selection of twelve) that match a category. Show winners get £200 for each correct answer. Any money they don't win goes to the audience, who can enter online or by post. But not via the app.
Rhestr was the first time any UK broadcaster tried a question-and-answer quiz by app, and we fear this didn't quite work as a television programme.
Inventor
The credit was "Fformat: Rondo Media cyf."
Theme music
Mei Gwynnedd is credited for "Cerddoriaeth".
Trivia
"Rhestr" translates as "List".
"Fformat" translates as "Format".
"Cerddoriaeth" translates as "Music".
See also
Web links
Feedback