Richard Arnold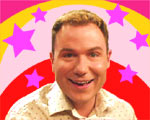 Biography
Former DJ who did the "odd slot" (oo-er) for Radio Scotland. Now best known for stints on GMTV and gabbing about soap operas, although surely the peak of his career to date is, as imdb.com puts it so neatly, "Children in Need" presenter - East Midlands Airport.
Trivia
He was features editor of Inside Soap magazine.
His first TV exposure was on the little-recalled mid-90s yoof series The Sunday Show, which also launched the careers of Peter Kay and Paul Kaye.
Once had a blink-and-you'll-miss-it non-speaking cameo as himself in con caper drama Hustle.
Contact
Capel & Land, 29 Wardour Street, London W1D 6PS
Web links
Feedback