Rosemarie Ford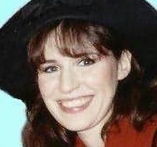 Biography
Yorkshire-born dancer whose first big break was a summer season with Les Dawson and who was a regular dancer on the later Morecambe & Wise shows. She has also appeared in stage musicals including Cats, Me and My Girl and Song and Dance, and sang solo at the Royal Variety Performance, which led to her most famous role as Brucie's assistant on The Generation Game.
Trivia
She married the actor Robert Lindsay (Citizen Smith, My Family) on New Year's Eve 2006. They already had two children together.
She was the roving reporter on the latterly unrepeatable Rolf Harris-hosted series, "Rolf's Amazing World of Animals", travelling all over the world to meet various animals and their owners/saviours. One such example was travelling to Africa to meet Virginia McKenna and various others involved in the Born Free Foundation, supporting wild lions.
Contact
Web links
To be completed
Feedback