Safari School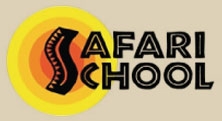 Host
Dr. Charlotte Uhlenbroek
Co-hosts
Safari school instructors: Graeme McLeod and Andrew Kearney
Broadcast
Initial for BBC Two, 22 January to 16 February 2007 (20 episodes)
Synopsis
A year and a bit on from Art School, BBC Two attempts to turn the same trick again by flying a bunch of celebs out to South Africa to be taught the skills of the game ranger. This time round, there's a proper game mechanic in place, with a series of eliminations producing one winner, who even gets a prize at the end.
They've really missed a trick by using "celebrities" in this series - especially as they're mostly boring ex-soap actors whose careers peaked a few years ago (well, it's true), and who have remained in the public eye largely through appearing on celebrity game shows. The usual suspects, in other words. It's doubly galling when you consider that this is a challenge that plenty of ordinary members of the public would jump at, with a "once in a lifetime", money-can't-buy prize - being involved in the release of captive big cats into the wild - that would really be worth winning, if you're into that sort of thing. We should be seeing contestants who are genuinely excited about the challenge and really motivated to win, but what we're getting is the first eight B-thru-D-list celebs who happened to be available that month. Are we wrong to feel cheated? Surely not.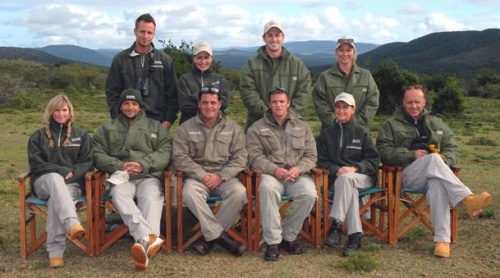 The gang's all here. Standing: Sheffield, Grant, McDonough, King. Seated: Kinsella, Baulch, instructors McLeod and Kearney, Leeming, Usher.
That aside, it's OK for an early-evening programme. It's obviously aimed more at the Animal Park (BBC2's usual filler in this slot) audience than anyone else, but it passes the time agreeably anough, and while life on game reserves isn't exactly a hidden world (we wouldn't care to count how many programmes have been made on that subject), the fish-out-of-water aspect helps to give it a bit of added interest.
Participants
Carrie Grant (vocal coach/talent show judge, winner), Jeremy Sheffield (ex-Holby City actor), Claire King (ex-Bad Girls actor), Brooke Kinsella (ex-EastEnders actor), Blair McDonough (ex-Neighbours actor), Paul Usher (ex-Brookside actor), Jamie Baulch (ex-athlete), Jan Leeming (ex-newsreader).
Trivia
The series was filmed at Shamwari Game Reserve, which was also the setting for Unearthed.
Theme music
Jess Bailey
See also
Feedback