School of Hard Sums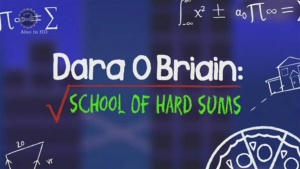 Host
Co-host
Broadcast
Fujisankei Productions and Wild Rover for Dave, 16 April 2012 to 22 April 2014 (24 episodes in 3 series)
Synopsis
Dara Ó Briain, himself a mathematics graduate, challenges a comedian to solve mathematical problems. Dara will try to do it from theory, the comedian by experimenting with real objects. Resident boffin Marcus du Sautoy sets the puzzles, and determines the winner.
If you can help us to expand this entry, please provide as much information as possible, using the feedback form below.
Inventor
Based on the Japanese format Comaneci University Mathematics. The original show was a vehicle for "Beat" Takeshi Kitano (of Takeshi's Castle fame).
Theme music
Marc Sylvan
Trivia
The original unaired pilot was titled Dara Ó Briain's University of Practical Mathematics.
Web links
Pictures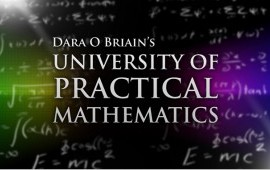 Logo from the unaired pilot
See also
Feedback