Scream! If You Want to Get Off
Host
Co-hosts
Nigel Marven
Broadcast
Granada for ITV1, 1 to 15 January 2005 (3 episodes)
Granada for ITV2, 2005 (3 episodes in the resumed series)
Synopsis
Adventure challenge show set in a nature reserve in the wilder parts of South Africa. Twelve members of the public compete against wildlife expert Nigel Marven in a series of contests with a possible £10,000 up for grabs each week. From the billings it sounded like an ITV equivalent of Fear Factor, though if the first actual episode is anything to go by, it's closer to It's a Knockout, albeit with rather fewer inflatables.
It was pulled after three episodes.
Inventor
Nigel Marven
Web links
Write-up on Nigel Marven's site
Birdlife International - The charity Nigel Marven plays to win money for.
See also
Pictures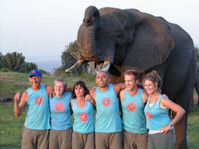 A local attempts to blend in with the blue team.
Feedback