Simon Mayo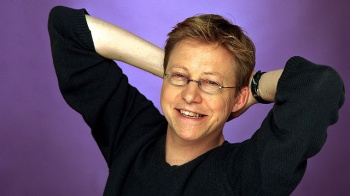 Biography
Mayo continues a family line of media workers, as his mother was the manager of a radio studio. He studied history and politics at university. Via Radio Nottingham, he landed a job at Radio 1 in 1986. His popular Confessions feature, where listeners wrote in to confess to naughty past deeds, was turned into a successful - if controversial - BBC1 format. He has an interest in religion, and has written a book and hosted a series taking a comical look at the world of cults, beliefs and factions.
In 2010 he moved from his long-running morning show on Five Live to take up the Radio 2 drivetime slot recently vacated by Chris Evans. He left that show at the end of 2018 and shortly afterward was announced as the headline signing for the new Classic FM rival Scala Radio. He now hosts the drivetime show on Greatest Hits Radio and the podcast Kermode and Mayo's Take with Mark Kermode.
Trivia
He once worked as a car park attendant before landing his first job in local radio.
Books / Tapes
Simon Mayo's Confessions (audio cassette)
Contact
PBJ Management, 7 Soho Street, London W1D 3DQ
Web links
Feedback