Sorority Girls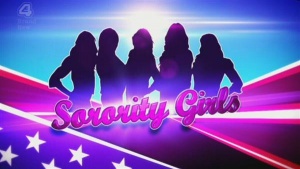 Host
Voiceover: Pete Nottage
Co-hosts
Sorority President: Amelia
Philanthropy Chair: Arianna
Social Chair: Devan
Standards Chair: Dominique
Entertainment Chair: Hannah
Broadcast
12 Yard for E4, 8 November to 26 December 2011 (8 episodes in 1 series)
Synopsis
Five 'sisters' from genuine American sorority Sigma Gamma travel to the UK to set up a new outpost of their sorority in Leeds, and are looking for five British girls to run it. An initial pool of fifty contestants is whittled down by means of a series of interviews with the sisters. Just twenty are then invited to attend a special party where they have a final chance to win over the sisters. Following this, 14 of the contestants then move into the sorority house, where they become known as 'pledges'. During their time in the house, the sisters put the pledges through their paces via a variety of tasks, everything from dress and decorum, to more unusual challenges like Army-style training courses. At the end of each episode there is the Pledge Cut, during which the sisters give their feedback to the pledges on how they feel they fared during that week's tasks. Following this, one pledge is told they haven't made the grade, and is eliminated from the competition. At the end of the competition, the last five girls remaining are declared the winners, and pocket £25,000 between them to continue the work of the sorority when the American sisters return home.
Inventor
Developed by Josephine Brassey and Liz Gaskell
Trivia
Critical reaction to this series was poor - Harry Hill laughed at the programme on TV Burp, and it seemed that viewers agreed. The first three episodes went out at 9pm on Tuesday, another episode went out at tea-time on Sunday, and the rest after 11pm on Monday nights.
Web links
The show publicised the hashtag #sororitygirls.
See also
Feedback